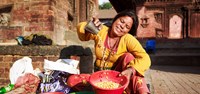 Specifically designed for NGOs
NGO Online is a program, project and grant management system specifically designed for NGOs.
Accessible from anywhere in the world thanks to its cloud-based lightweight design, NGO Online offers a suite of functionality to support project and grant management, improve oversight and visibility, capture data, organisational knowledge, decision-making and more.
NGO Online is fully customisable to your organisation's needs and ways of working, and can be aligned with International Aid Transparency Index (IATI) standards. The system can also be integrated with ERP and HR systems already in place for greater visibility of your organisation's portfolio.
Effective implementation
NGO Online is more than just a great system. With a dedicated team of IT and former NGO-sector practitioners, we support you every step of the way through the design, implementation and change management process.

Well known technology
Built on proven Microsoft Office 365, SQL Server and Azure technology.
NGO Online is built on SharePoint Online, part of the Microsoft Office 365 platform. Building on SharePoint's rich set of functionality for information sharing, document management, task management, collaboration and workflows, NGO Online offers specialised and fully customisable functionality designed specifically for NGOs.
NGO Online is run on the Office 365 platform, with the power of the cloud allowing users to access up-to-date information and documents from anywhere in the world. NGO Online also uses WCF-services and a dedicated Azure resource to improve system performance and increase flexibility.



NGO Online can be integrated with any modern ERP or HR system, including Agresso, Dynamics AX /Navision/CRM, PeopleSoft and SAP. Integrations can be setup using Web-services, SQL Server, BizTalk or similar integration platforms.






Contact us
Want to know more about how we can help you? Fill out the form and we will contact you.